International Journal

of

Environmental Sciences
Editor in Chief

Mihai V. Putz
Laboratory of Computational and Structural Physical Chemistry
Chemistry Department,
Faculty of Chemistry-Biology-Geography
West University of Timişoara
ROMANIA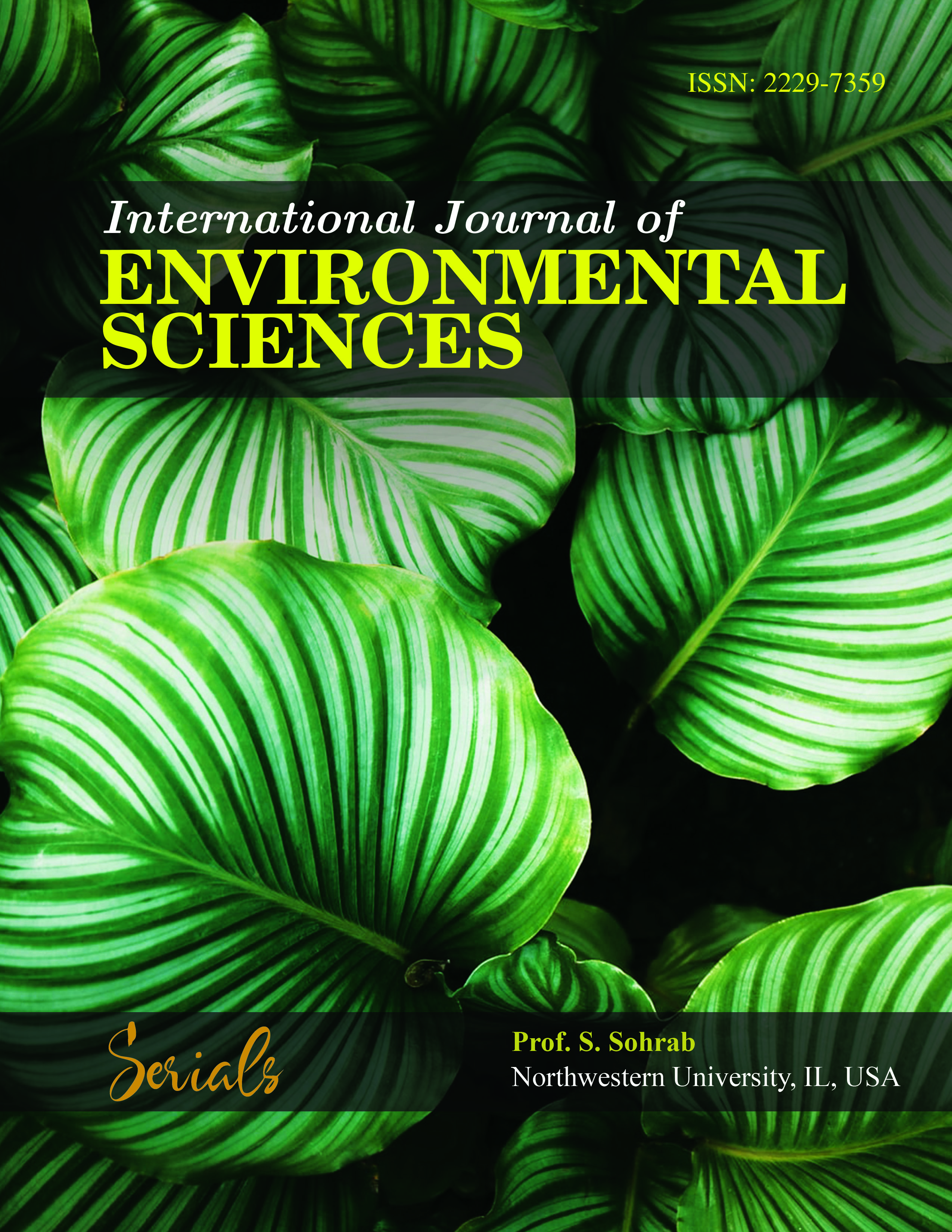 ISSN: 2229-7359



This journal also publishes Open Access articles
Aim and Scope
International Journal of Environmental Sciences is peer reviewed, journal, which covers all aspects of environmental research. It is one of the fastest growing environmental journals which covers the environmental research widely and read by International community of researchers and students across the globe. IJES is the flagship journal which receives high quality research articles and patronised highly by research fraternity.
The objective of the International Journal of Environmental Sciences is as follows:
To report on the latest research achievements and developments
To strengthen academic exchanges between researchers and academia
To contribute to the progress in environmental sciences
To provide high quality online platform for publishing original research works

Journal provides a multidisciplinary online forum for authoritative discussion and analysis of issues of wide interest to the international community of environmental professionals. IJES is an online open access environmental sciences journal devoted to publish original, peer-reviewed research papers on all aspects of environmental sciences which includes, but not limited to, the following
environmental chemistry
environmental sciences
environmental engineering
environmental biology
ecology
geosciences and environmental physics
environmental management
environmental technologies
environmental pollution
biogeochemistry
Other environmental related research works


Article Processing Charges: The journal publish articles in Open Access Model. In this Open Access model, the publication cost should be covered by the author's institution or research funds. These Open Access charges replace subscription charges and allow the publishers to give the published material away for free to all interested online visitors. The charges for page charges in the journal is Rs. 35,000 (for Indian Authors) and $ 850 (for foreign authors).
Submission: Authors are requested to submit papers electronically to jesr.editor@gmail.com
or through ONLINE SUBMISSION SYSTEM.

Frequency: Two issues per year.

Corrections to Published Work:
Honest errors are a part of research and publishing and require publication of a correction when they are detected. We expect authors to inform the Journal's Editor of any errors of fact they have noticed or been informed of in their article once published. Corrections are made at the journal's discretion. The correction procedure depends on the publication stage of the article, but in all circumstances a correction notice is published as soon as possible. Details can be found on the Call for Papers section of the journal website.
Retractions:
Retractions are considered by journal editors in cases of evidence of unreliable data or findings, plagiarism, duplicate publication, and unethical research. We may consider an expression of concern notice if an article is under investigation. All retraction notices will explain why the article was retracted. The retraction procedure depends on the publication stage of the article.
Review Process: This journal uses double-blind review, which means that both the reviewer and author identities are concealed from the reviewers, and vice versa, throughout the review process. The articles is submitted to minimum 3 reviewers specialize on the topic for their reviews.
Editor in Chief
Mihai V. Putz
Laboratory of Computational and Structural Physical Chemistry
Chemistry Department,
Faculty of Chemistry-Biology-Geography
West University of Timişoara
ROMANIA
PEER REVIEWED PROCESS FOLLOWED
Publications Ethics and Publication Malpractice Statement
Vol. 8 No. 1 (June, 2022) Vol. 8 No. 2 (December, 2022)
Vol. 7 No. 1 (June, 2021) Vol. 7 No. 2 (December, 2021)
Vol. 6 No. 1 (June, 2020) Vol. 6 No. 2 (December, 2020)
Vol. 5 No. 1 (June, 2019) Vol. 5 No. 2 (December, 2019)
Vol. 4 No. 1 (June, 2018) Vol. 4 No. 2 (December, 2018)
Vol. 3 No. 1 (June, 2017) Vol. 3 No. 2 (December, 2017)
Vol. 2 No. 1 (June, 2016) Vol. 2 No. 2 (December, 2016)
Vol. 1 No. 1 (June, 2015) Vol. 1 No. 2 (December, 2015)