International Journal of Computer Sciences
&
Engineering Systems


ISSN No: 0973-4406
Editor-in-Chief
Prof. Dr. Jeng-Shyang Pan
Department of Electronic Engineering. National Kaohsiung University of Applied Sciences, Taiwan
Email: jspan@cc.kuas.edit.tw
Co-Editor-In-Chief
Prof. Dr. Chin-Chen Chang
Department of Information Engineering and Computer Science, Feng Chia University, Taiwan

E-mail: ccc@cs.ccu.edu.tw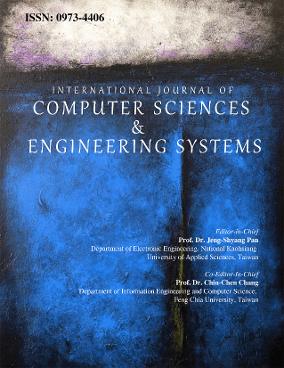 Aim and Scope
International Journal of Computer Sciences and Engineering Systems (IJCSES) is an open access, scholarly peer-reviewed, and fully refereed scientific research journal for scientists, engineers, research scholars, and academicians, which gains a foothold in Asia and opens to the world, aims to publish original, theoretical and practical advances in Computer Science, Information Technology, Engineering (Software, Mechanical, Civil, Electronics & Electrical), and all interdisciplinary streams of Computing Sciences. It intends to disseminate original, scientific, theoretical or applied research in the field of Computer Sciences and allied fields. It provides a platform for publishing results and research with a strong empirical component. It aims to bridge the significant gap between research and practice by promoting the publication of original, novel, industry-relevant research.

Article Processing Charges: There are no publication or page charges in the journal.

Frequency: Two issues per year.

Submission: Authors are requested to submit their paper via ijcses.editors@gmail.com
International Journal of Computer Sciences and Engineering Systems currently has an acceptance rate of 30%. The average time between submission and final decision is 1 month and the average time between acceptance and publication is 3 to 4 month.
Editor-in-Chief
Prof. Dr. Jeng-Shyang Pan
Department of Electronic Engineering.
National Kaohsiung University of Applied Sciences
Taiwan
Email: jspan@cc.kuas.edit.tw
Co-Editor-In-Chief
Prof. Dr. Chin-Chen Chang
Department of Information Engineering and Computer Science
Feng Chia University
Taiwan
E-mail: ccc@cs.ccu.edu.tw
PEER REVIEWED PROCESS FOLLOWED

ONLINE SUBMISSION SYSTEM

Editorial Board

Instructions to Authors

Publications Ethics and Publications Malpractice Statement